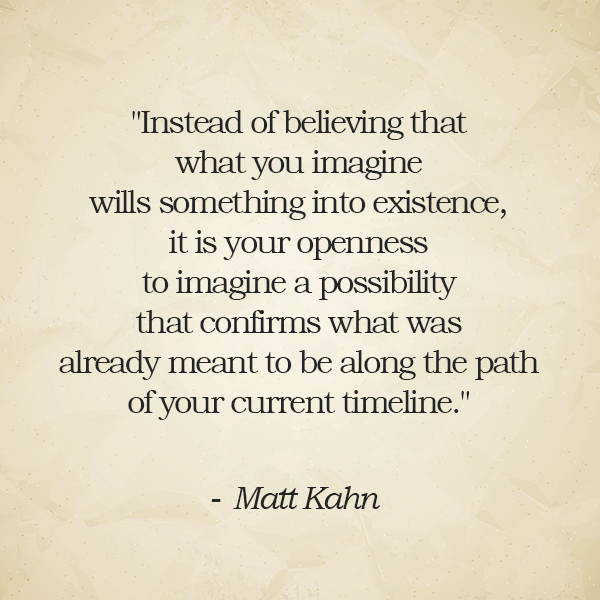 Intuitive Alignment…
"While you cannot dream outside your destiny, the outcomes, situations, and circumstances that show up are not a result of you imagining them. This means imagining isn't actually a form of manifestation, but a sign of greater intuitive alignment. Instead of believing that what you imagine wills something into existence, it is your openness to imagine a possibility that confirms what was already meant to be along the path of your current timeline.
When you are aligned with divine will, you are able to sense what is meant to unfold with a deeper willingness to accept it as a divine catalyst of your highest evolution. When alignment is out of balance, the things you imagine have little to do with what occurs. This can make you feel like a victim of circumstances or appear as if the universe isn't listening to your wishes, dreams, and desires. Once there is an ability to accept whatever arises as the most direct way for life to expand your consciousness in the most efficient way, a greater desire to grow and learn replaces a need to control the outcomes, situations, or circumstances at hand.
Ultimately, this means the law of attraction is a confirmation that everything occurs to inspire your deepest healing and highest evolution, which leaves you with everything to welcome and nothing to manipulate. As this misunderstood principle is clarified, as a deeper surrender into faith, you begin to see a greater truth about co-creation. While outcomes are determined prior to incarnation, it is your freedom of will that determines what things symbolize, and how it will be viewed that ultimately determines the quality of your experience. This means you don't have to control anything occurring in reality, since you are the freedom that determines what anything represents in view.
Perhaps the difference between insurmountable odds and endless gifts of insight and expansion is merely a matter of perception."